Vocabulary
active scheme
assistant editor
compiler
console pane, or console area
debug area
executable apps
Git
IDE
project
project navigator
project template
push notifications
standard editor
storyboard
target
utilities area
variables view
version editor
Excerpt From: Apple Education. "App Development with Swift." Apple Inc. - Education, 2017. iBooks. https://itunes.apple.com/WebObjects/MZStore.woa/wa/viewBook?id=1219117996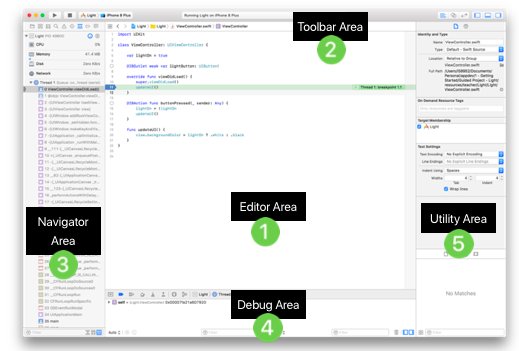 A target - a finished thing your project can produce. ie; an app for a particular platform.
Running Apps
"breakpoint bug deprecated code developer mode compiler error, or error exception landscape portrait step control buttons "
Excerpt From: Apple Education. "App Development with Swift." Apple Inc. - Education, 2017. iBooks. https://itunes.apple.com/WebObjects/MZStore.woa/wa/viewBook?id=1219117996
Simulator
To rotate the image from portrait to landscape orientation, use the keyboard shortcuts Command-Left Arrow and Command-Right Arrow.
Building for your own device
Register for a developer account and then set that account up in X-code and you can deploy your app to your own devices.
Wireless Deployment
I didn't know about this, and it probably solves my "can't connect to this device" problem, but if you connect the device once with a wire, you can set it to connect wirelessly in future.
Warnings and Errors
Setting a Breakpoint
Left click the line gutter.
No shortcut to remove them?
Documentation Browser
opt-click a keyword for its documentation.